Most people, I find, don't know what a
Diabolo
is. Whenever I take it to church, my friends are always asking me what the name is (because they have forgotten) and how I do it, and lots of other questions.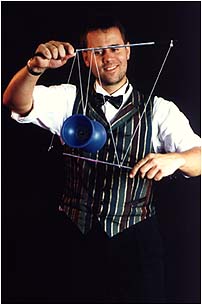 The actual Diabolo is like what they call a butterfly shaped yoyo. Then there are these two sticks with string tied to them.
I also find most people don't know how hard it is to use a Diabolo. At first when I got my Diabolo, well I must say I was hopeless at it. The novelty of it wore of for a while, but lately I have been using it a lot. I was also amazed at how many things you can do with a Diabolo. Although I can only do about ten tricks.
My brother and I have really been getting into Diabolo these last few months. My Brother is really good at it too.